By Barry R. ClarkeThe Wizard's Spell
'The Wizard's Spell'
Legend has it that the ruler of Salad City, Count Lettuce, had a reputation for cruelty. He would demand unreasonable quantities of tomatoes in tax and charge outrageous amounts of mayonnaise as rent on his properties. At Carrot Castle, the Sorceror was so furious about his latest rent demand that he changed the Count into a furry creature. However, better judgement soon prevailed and he began to look in his spell book for an incantation to restore him. The only spell that would work had four missing letters and they had to be inserted in the correct order:
NEED EYE OF TOAD, LEAN DOG, LAY (4 letters) ON TRAY, LEG OF FROG.
So he placed the Count on a tray and recited the spell with the missing letters included. It worked! Time for the Sorceror to make himself disappear!
What had the Count been turned into?

Paw Poem
If tatty stray cats only meow,
Pray let's end the error ask now:
Do uncouth toms terse,
Eat rats need our nurse,
So eight new solutions endow?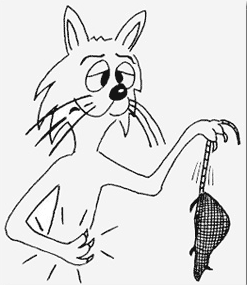 To what is this limerick referring?If you would like to know what the answers are, contact Barry.